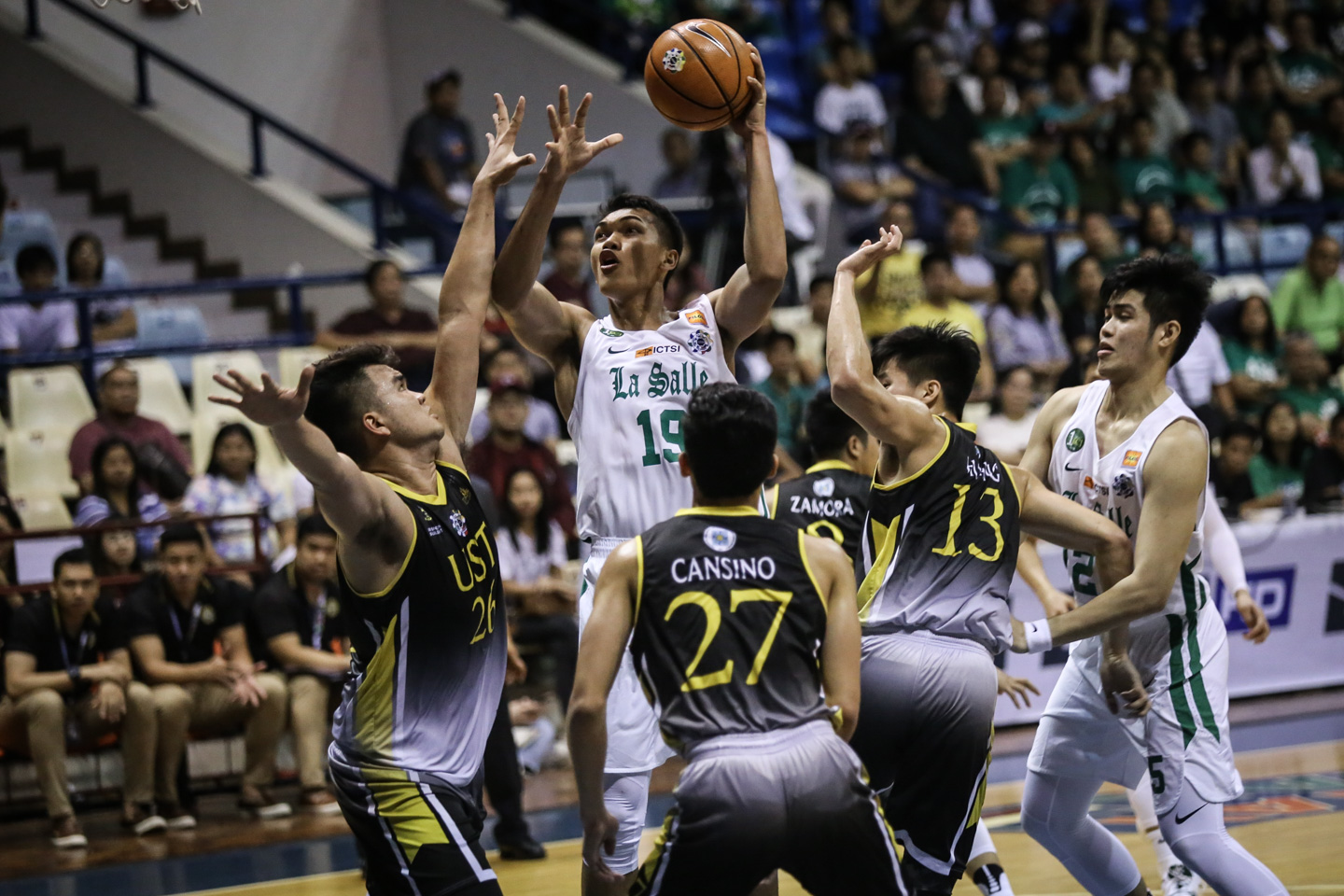 [ad_1]
They do not show cruelty, Green Archers dominate the Tigers for the third place

ANTIPOLO, Philippines – At a stretch, La Salle has gained a tremendous 48-point advantage at Santo Tomas University.
Thus was the dominant La Salle when the Green Archers embarrassed the UST Growling Tigers in the 110-69 division at UAAP's 81st Men's Basketball Court at Ynares Center in Antipolo City on Saturday, 3 November.
Aljun Melecio won the season with a high of 22 points, plus 6 assists and 5 rebounds, while Green Archers in the first quarter scored 41 points.
Mark Dyke's career-high 16 points to the 6 tables at La Salle.
This was the second most scary match in the championship, as La Salle also beat 43 points, 99-56 on October 23, 2016.
During the win, the archers could easily get through the Logjam station and third place at 7-4. They also completed the sweep of former coach and now UST mentor Aldin Ayo as the Tigers also lost 27 points in the first round.
The Tigers had a triple tie at the 4th place with FEU and UP at 5-6.
UST guard Marvin Lee pulled his team on the finish line with 26 points in the 15-15 (33%) shot.
La Salle was built on a strong first half in a huge 26-3 race, 76-34, to start the third quarter.
Justine Baltazar dunks, back-to-back Jollo Go triple, name it, the archers have done it. By the time the powder is full, La Salle's 34-9 sketch grew to 44, 84-40.
Leadership was as high as 48 points, 90-42, a Mark Dyke long bomb, and only a minute at fourth place. By then, all archers had to make it easy to win as time ticked.
The scores
La Salle 110 – Melecio 22, Dyke 16, Caracut 15, Go 14, Baltazar 13, Serrano 13, Santillan 6, Montalbo 4, Manuel 3, Bates 2, Capacio 2, Cortez 0.
UST 69 – Lee 26, Cansino 14, Mahinay 5, Marcos 5, Cosejo 5, Zamora 4, Bataller 3, Huang 3, Agustin 2, Bonleon 2, Subido 0, Caunan 0.
Fourth: 29-13, 50-31, 84-40, 110-69.
– Rappler.com
[ad_2]
Source link