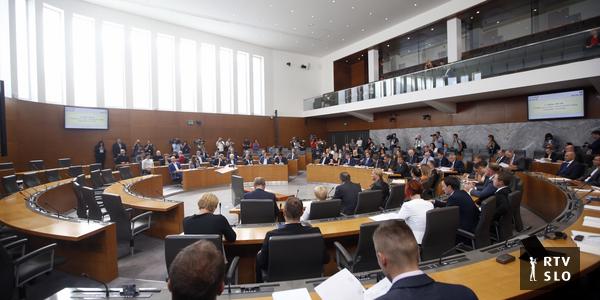 [ad_1]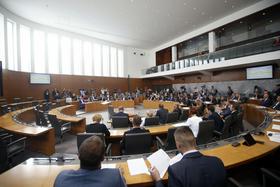 The next meeting of the National Assembly will start with questions of the Prime Minister. Photo: BoBo
Second session of the National Assembly
On November 19, 2018, at 11:51 am,
last intervention: November 19, 2018 12:48 PM
Ljubljana – MMC RTV SLO, STA
The National Assembly began the first meeting of the National Assembly with the Prime Minister Marzhan Sharak and ministers. Earlier, the Organization for Security and Cooperation in Europe (OSCE) drew attention to the resignation of United Nations Secretary-General Marc Bendel.
The National Assembly has warned the Ministry to resign without a portfolios responsible for the development, strategic projects and unity of the Ministry Mark Benedell. «According to the National Assembly, Banelly ceased acting as Minister– said the chairman of the National Assembly Dejan Jidan and Benedell would temporarily work until the appointment of a new minister.
Bandellia called on the Prime Minister to resign because of insufficient communication and poor performance at the ministry Marzhan Sharets. She signed a pension declaration on Tuesday.
Sarac is one of the reasons why Banelli has not been able to obtain EU funds, which is one of the Government's priorities, despite various indications. The second set of reasons was related to the e-mail message threatened by one of the candidates in September. But it was probably the top spot of the assault on Benjamin because he was a candidate for the ministry.
Bandelli apologized to the Mayor for his office and said that he had been working hard for two months. The prime minister has already had ten days to present a new minister or report to the National Assembly, which will serve temporarily for himself or another member of his government.
Parliamentary Questions for Sark
Head of the SDS deputy group Daniel Krivec within the framework of parliamentary issues, asked Shkarka on Thursday the opinion of the UN on the migration agreement, which is going to join Slovenia after the government decision. The bulk of the opposition shows that the migrant's offer is not equal to the number of refugees.
Head of the National Parliamentary Group Joseph Croats he asks the prime minister what measures the government wants to do with the tax system. Opposition considers that the measures taken by the coalition in this area are harmful to the country.
SNS member Dyusha Shishka the government will be interested in solving the problem of radioactive waste disposal at the municipality of Krshko. Asked by the Prime Minister about the minimum wage raise, the leader of the Levitic Parliamentary Group is asking for his support Mate T. Vatovets.
Member of LMŠ Jerco Korcethe government has been interested in what the government did during the first few months of the government, which has found that there is no ordinary 100-day peace, and has a vision of Sark to continue its work.
G. C.
Report a bug
[ad_2]
Source link